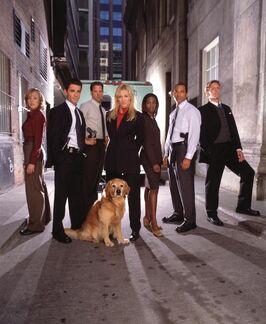 Welcome to the Sue Thomas F.B.Eye Wiki
This Wiki site is all about Sue Thomas F.B.Eye; a great series which only lasted for three seasons. Sue Thomas F.B.Eye is about a young deaf woman who sets out to join the F.B.I. in Washington D.C.
Sue Thomas F.B.Eye
Sue Thomas F.B.Eye was created by brothers Dave Alan Johnson and Gary R. Johnson. Sue Thomas (played by Deanne Bray) has a hearing dog called Levi (played by Jesse Renfro). After moving to Washington in pursuit of a career in the F.B.I. Sue joins Jack Hudson's (played by Yannick Bisson) unit. Jack's unit consists of himself, one of his oldest friends Bobby Manning (played by Rick Peters), Dimitrius Gans (played by Marc Gomes), Myles Leland III (played by Ted Atherton), Tara Williams (played by Tara Samuel) and Sue's inevitable best friend and roommate Lucy Dotson (played by Enuka Okuma).
Episode Index
Main Characters Index
Supporting Characters Index
Latest activity