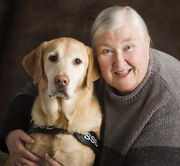 Sue Thomas was an amazing woman who is the inspiration for the show Sue Thomas: F.B.Eye. Sue Thomas was the first deafwoman to become an undercover investigator for the Federal Bureau of Investigation. At the age of 18 months Sue became deaf with no explanation as to why. Sue became the youngest Ohio State Champion free-style ice skater in history. A speech therapist helped her to learn to talk and lip read and despite her abilities at lip reading school life was very difficult for her but she still graduated with a degree in Political Science and International Affairs. Sue joined the Bureau as a fingerprint examiner until FBI agent Jack Hogan discovered Sue's talents and she became an undercover surveillance agent between the years of 1979-1983. In 2001 Sue was diagnosed with Multiple Sclerosis and Sue has embraced her illness as she has all other challenges she has been faced in. As of 2009 Sue was planning to build a dog-training centre called "The Levi Foundation". Sue has appeared in two television series; Doc and Sue Thomas: F.B.Eye. In Sue Thomas: F.B.Eye Sue actually appeared in three episodes - her first appearance wasn't as actress Deanne Bray.
Sue's role in Sue Thomas: F.B.Eye was as actress Deanne Bray
She loves her hearing dog. Unfortunately in 2012 her beloved hearing dog Katie passed away.
Sue appeared in 2 episodes as Deanne: